IRONMAN AIX EN PROVENCE WITH PAUL AND JACQUELINE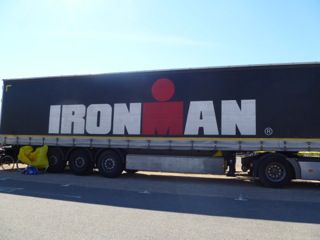 Further info re Ironman 70.3 Event at Pays D'aix:
1.9 km SWIM
90 km BIKE
21.1 km RUN
Next year's event will be held on 18 May 2014
"There were 1300 athletes who took part in the 2013 Ironman 70.3 Triathlon held on 22 September at Pay's D'aix. 48% of the athletes competing were French, however the second highest number were competitors from GB with 14%. This was only the

third

time that Ironman had run this event - which was 70.3 miles in total, consisting of a 1.2 mile swim; 56 mile bike; 13 mile (half-marathon) run. The swim was held in Lake Peyrolles, with timed starts for the elite athletes and then the age group categories. The athletes then got on their bike to do the 56 miles. This was a hilly course but beautifully scenic finishing in Aix en Provence, where the athletes then completed the event with 4-loops of the city centre, finishing at the Rotunda on Cours Mirabeau".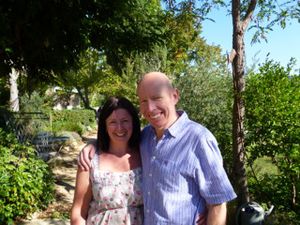 tripadvisor review :
My husband and I thoroughly enjoyed our stay at La Charlotte which is located outside of Aix en Provence (approx 7 mins drive). It is located in a beautiful little hamlet in a rural area, which we found perfect to just chill and relax. Gerard is a lovely host, who has a very good sense of humour, and we enjoyed our chats with him (whose English is far better than our French). Gerard's breakfasts were simply wonderful and freshly made each morning - with a different delicacy each day; a different place setting; and prepared for a time that was convenient for us. Gerard even very kindly prepared one breakfast the evening before, as we had a 5.30am start to drive to Lake Payrolles for the Ironman 70.3 Pay's D'Aix Triathlon. La Charlotte has a large, beautifully landscaped garden for you to use and sitting on the patio in the evening watching the sun go down behind the mountains is just lovely. Having your own kitchen with a fridge, cooking facilities and every utensil there is to be found was also very useful, so if you've been out all day, have had food and just want to prepare a little something (with the obligatory bread and wine), it's lovely to be able to do so. What we also found and which is important to us, was the bed and bathroom. The bed was very comfortable; and the bathroom (which has a lovely bath and shower) had a plentiful supply of clean towels and shampoo, conditioner, bath foam and soap. We would definitely stay at La Charlotte again, which is just charming, and to see more of the wider area, as on this occasion we didn't have too much time to do because my husband was competing in the Ironman Triathlon with time needed to prepare for, which La Charlotte helped with its relaxing setting. However, Gerard very kindly highlighted areas on the map in the Luberon area to visit when we left La Charlotte and which were on the way to Avignon, our next destination (the places of which were just beautiful and would definitely make us go back again to visit in more detail).
Paul and Jacqueline .